First of all, wishing you all the best for the year ahead. I hope that you enjoyed a good holiday season and that 2020 brings you ahead in life and business. You have undoubtedly had your inbox full of 2019 summaries and predictions for the year ahead but as this is the turn of a new decade, I hope you will find time to read through mine as well. A new decade doesn't come around that often, well every ten years to be precise, but it is always an exciting moment and with the pace of technological advancement accelerating, this decade is sure to be full of opportunities to leap ahead. I don't have a crystal ball but one thing is for sure, when we complete this decade, we will look back at amazement at the amount of change that has taken place.

Looking back on 2019
What else to say, it was a great year of growth at SettleMint and we would like to thank you for having been part of the third year in the history books for SettleMint. Below is a short recap of the notable milestones the team was blessed to achieve.
We welcomed many new great users to our product including Standard Chartered Bank, Kuwait Finance House, SDWorx, Colruyt and Carrefour to name a few. Thank you to everyone who has entrusted their blockchain journey to our solution in the past years, looking forward to a great continued relationship.
Throughout the year, we expanded our network of channel partners to include NTT Data in Singapore, Fujitsu across Europe, Bahrain FinTech Bay, Simac in Benelux, Lenovo in Europe and MEA and Sopra Steria in Benelux. We are also cooperating with a number of other partners on specific implementations so great to see a strong network of partners forming. I would like to thank all our channel partners and looking forward to deepening our cooperation in the years ahead.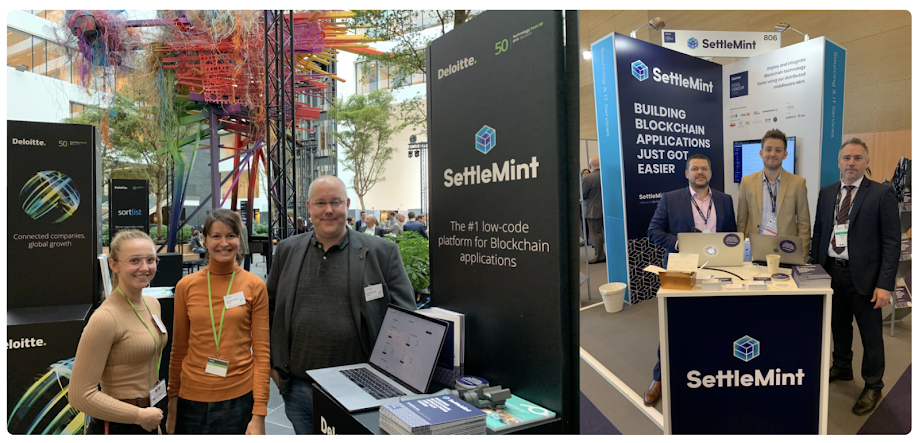 On the product side, we launched a new version of our Blockchain Platform as a Service (BPaaS) solution that didn't go unnoticed, being selected by Gartner as a "Cool Vendor" for blockchain in enterprise was a great recognition of our product. The first public demonstrations of the new version of our solution were at the Gartner IT Expo in Barcelona, at the Singapore FinTech festival and then at the Bangalore IT Summit in the fall to great feedback like "now I understand how we can implement blockchain" or "if we had used your solution, we would have cut 8 months out of our development and deployment timeline" or "I didn't realise it could be so easy". Very gratifying to see the product vision fulfilled and to receive instantaneous validation that our product solves real problems and challenges that enterprises face on their blockchain journey.
DataBroker went through a deep rethink, redesign and will be relaunched in the coming weeks. We have spent most of 2019 rebuilding from a technical perspective and further building upon the network of sellers and buyers of data, extending the scope of the platform to include valuable data sets and sharpening the value proposition of the platform. We are looking forward to the year ahead for the platform and for the community who have stayed the course and trusted the team. 2020 will be an exciting year with utilisation picking up from Q1 2020.
From a geographic perspective, we have expanded into 3 regions in 2019 setting up in Singapore over the summer, the announcement of our opening in Riyadh Saudi Arabia and the opening of the SettleMint India office in New Delhi in November. These openings are aligned with our strategy of expansion West to East from Europe to APAC.

On the funding side, we managed to secure over 5 million in funding composed of the Horizon 2020 SME Phase II Grant (announced in January), Vlaio SME Grant (announced in March), New Strategic Investor (to be announced in the coming weeks), Medici Ventures joined the funding round with the new Strategic investor following on from their pre-seed investment back in 2017 and we finished the year off at our new HQ in Leuven. A final update for 2019 is our new HQ location in Leuven where we warmed up the new office with Belgian team's family Christmas party.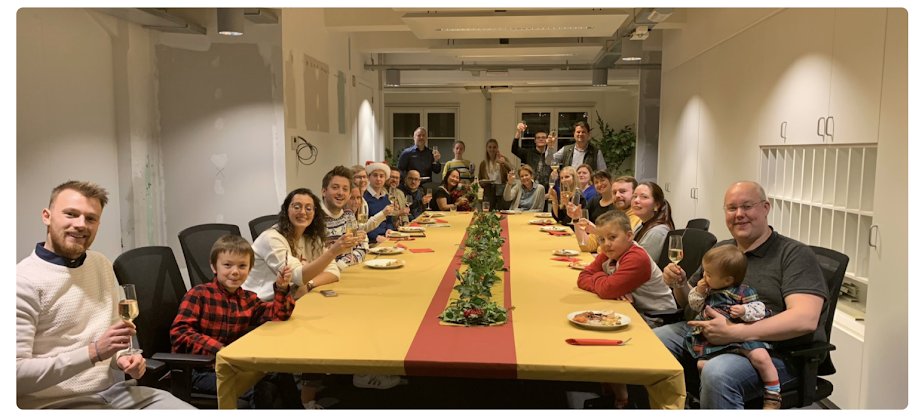 Zooming out
As you know, the SettleMint story is but part of a much larger trend that we are very proud to be part of. The past 10 years have seen considerable experimentation with blockchain and distributed ledger technology in the private and public sector. The next 10 years will see full scale adoption moving the technology from a nascent to a prevalent part of IT infrastructure and architecture. This shift will create incredible efficiency, transparency and security gains in our increasingly digital and connected world.
As the pace-setters and innovators across sectors are already "exiting the lab" with blockchain applications, the market increasingly searches for an enterprise grade solution from a security, scalability and interoperability perspective. In the absence of a "middle layer" class of solutions, these early adopters have needed to invest heavily in building in-house expertise and/or hiring external providers to bridge the gap between their envisioned blockchain use case and a deployable, enterprise-grade solution. This has held back adoption but has been a necessary phase.
This is exactly the moment in time and adoption where SettleMint's Blockchain Platform as a Service solution really starts to shine. We have moved firmly from blockchain curious to blockchain serious. The novelty has worn off, outlandish expectations and claims have faded and now the market is ready to deploy, where it makes sense. "Doing blockchain" for the headlines is so 2010's!
Looking ahead
No this won't be a top 20 prediction list, there are good ones here (Andrew Keys, through Ethereum lenses), here (Richard Gendal Brown, through Corda lenses) and here (Biser Dimitrov, through more impartial lenses). Rather than repeating what very clever people have said, please enjoy the knowledge that inspires the SettleMint team on our journey into the new year.
I will say this for the year ahead, those that have ground it out through the ups and downs as the foundations have been laid, those that have a real product that liberates the world from inefficiency, inequitable distribution and friction and those who have been able to deliver verifiable value are poised to surge at the same time the citizens, clients and ecosystems they have been working with begin to realise the value they are seeking. So hats off to the grinders, the makers, the innovators and the leaders who have gotten us to this point. 2020 is shaping up to be the year of deployment, the year we begin to see the lab in our rear view mirrors and ultimately, the year where the real fun begins.
My best wishes to each of you and looking forward to working with you in the decade ahead. Peace, good health and prosperity are my wishes for you and your loved ones.
Matthew