Leuven/Rotterdam – January 27, 2020. KPN and SettleMint today announced that KPN Ventures has participated in the €1.9M investment round of SettleMint, a Belgium based Blockchain Platform as a Service company that has built a low code and infrastructure agnostic blockchain platform solving the major challenges of enterprise grade blockchain use case development and deployment.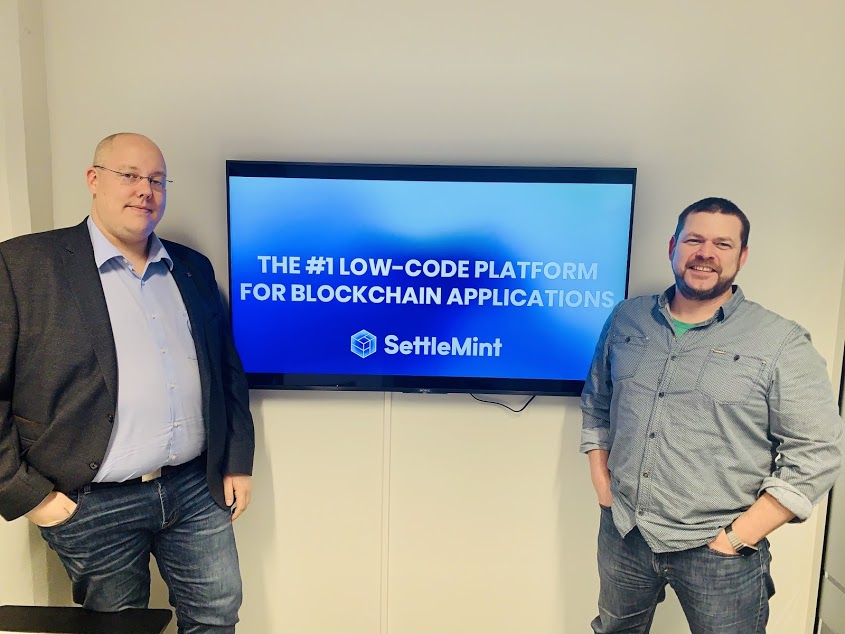 In addition to KPN Ventures, existing US-based investor Medici Ventures participated in the €1.9M financing round. The investment brings SettleMint's total funding to €5,5 million EUR. The growth capital will be used to further accelerate the international expansion and commercialisation of SettleMint's award winning enterprise blockchain solution in Europe, MEA and APAC.
After considerable experimentation, there is currently strong momentum for blockchain and distributed ledger technology in both the private and public sector. In the next years we expect to see full scale adoption moving the technology from a nascent to a prevalent part of IT infrastructure and architecture. This shift will create incredible efficiency, transparency and security gains in our increasingly digital and connected world.
As the pace-setters and innovators across sectors are already "exiting the lab" with blockchain applications, the market increasingly searches for an enterprise grade solution from a security and scalability perspective. In the absence of a "middle layer" class of solutions, these early adopters have needed to invest heavily in building in-house expertise and/or hiring expensive external providers to bridge the gap between their envisioned blockchain use case and a deployable, enterprise-grade solution.
With its scalable low-code, chain and infrastructure agnostic solution, SettleMint makes blockchain use case development, deployment and integration highly accessible to every developer while eliminating the risk of vendor lock. This saves time across the blockchain use case lifecycle and provides greater organisational flexibility.
SettleMint is ideally positioned to materialise on the current market momentum and demand for blockchain agnostic middleware solutions leveraging its proven scalable technology. The successful track record of deployed use cases and strong partner network enable SettleMint to accelerate its international growth ambitions.
Matthew Van Niekerk, Co-founder and CEO of SettleMint
"When you recognise the benefits of this technology for the economy and for society, you have a moral obligation to make it easy for developers to use, to accelerate adoption. As with other cutting edge technologies, getting to the inflection point of adoption requires a product that abstracts away complexity, tools that developers love to use and a solution that decision makers trust. With more than 30 use cases developed on the platform to date in the public and private sectors, several of which have exited the lab, we are excited to welcome KPN as a strategic investor and partner to accelerate the growth of SettleMint."
Sjoerd Spanjer, Investment Director KPN Ventures
"SettleMint has developed an innovative product that solves problems for organisations deploying blockchain use cases, limiting the necessity to have inhouse blockchain expertise while significantly shortening the time to market. We believe in the strong hands-on management team and see ample growth potential in SettleMint based on the successful track record of use cases and continuing expansion of their channel partnership model. As such, we are convinced that SettleMint can materialise on the strong demand for this solution in Europe, Middle East and APAC. KPN acknowledges the increasing demand for blockchain applications and its associated complexities. Together with SettleMint, KPN intends to boost the adoption of mature blockchain innovations. We have nearly completed the integration of SettleMint APIs (CertiMint) in the KPN API Store, our first blockchain proposition that will make blockchain functionalities accessible to developers using our marketplace. We are currently evaluating several other areas of potential commercial cooperation between SettleMint and KPN."
Joel Weight, COO Medici Ventures
"Medici Ventures continues to support SettleMint due to its innovative blockchain-based products in production and strong technical team. SettleMint's middleware solution helps advance blockchain technology by allowing enterprise developers to quickly create and deploy blockchain-based applications. We're pleased to contribute to SettleMint's growth and expansion as they continue to innovate in the enterprise blockchain space."
About KPN Ventures
KPN Ventures is the venturing arm of KPN, The Netherlands' leading telecom & ICT company. KPN Ventures aims to build value-creating partnerships with innovative European technology companies, accelerating innovation and growth by providing access to capital, industry expertise, technical infrastructure, professional network and channels to customers.
It focuses on direct and indirect (fund-in-fund) early-stage investments in the segments: Networking Technology, Cyber Security, Internet of Things, Smart Home, Digital Healthcare, Video/OTT, Cloud and Data/AI. It has investment in companies, amongst other: Viloc (BE), Sentiance (BE), Zecops (ISR), Cloudify (ISR), EclecticIQ (NL), Cybersprint (NL), Wirepas (FI) and Actility (FR). KPN Ventures has its main office in Rotterdam, The Netherlands.
About Medici Ventures
Launched in 2014, Medici Ventures is a wholly-owned subsidiary of Overstock.com, Inc. (NASDAQ:OSTK) created to leverage blockchain technology to solve real-world problems with transparent, efficient, and secure solutions. Medici Ventures has a global keiretsu of ground-breaking blockchain-focused companies focused on building the foundation of a technology stack for civilization. Medici Ventures' companies are introducing blockchain technology to industries including identity, land governance, money and banking, capital markets, supply chain, and voting. The company's majority-owned financial technology company, tZERO, executed the world's first blockchain-based stock offering in December 2016.